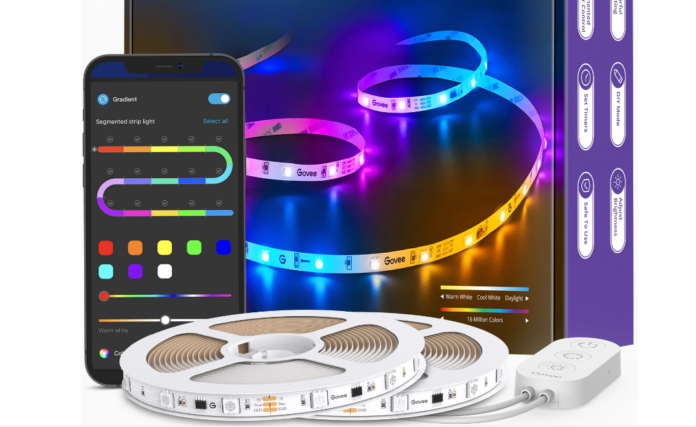 If you are a homeowner, then you probably want to get the most out of your home. Here, you'll learn more about Govee LED Strip Light control using the Govee home app. This is a mobile application that helps homeowners make the most out of their homes.
Govee Home app is a remote-control tool. It enables you to control your Govee LED lights wherever you are, with the touch of a button. The app can be installed on smartphone or tablet and works across all major platforms. You can download it from Google Play or App Store.
The application has two main functions:
Remote control: You can turn your lights on and off, dim them, change their colour and sync them with your Bluetooth music and many others.
Automation: You can set up different lighting scenarios so that they switch on automatically when it gets dark outside
The good news is that you can control these outdoor lights with the Govee home app. Because of its streamlined design and user-friendly interface, it is free and simple to set up and use.
Using Govee LED Strip Lights Outdoors
If you are looking for an easy way to add some extra light to a dark area, the Govee LED Strip Light is the perfect solution. These lights are incredibly versatile and can be used in so many different applications. Here are some of our favorite ways to use the Govee LED Strip Lights outdoors:
The most obvious use is to light up your garden at night. This can be done by either installing the lights underground or hanging them above ground using hooks or rope. The only thing you need to make sure of is that the wires from the power source are not visible from any angle as this could look ugly when seen from afar.
You can install the LED strips along the edges of a patio to create a nice effect when you turn on your patio lights at night time. This would make a great addition if you want to give your patio an elegant look at night time without spending too much money on expensive outdoor lighting systems that may not even last as long as the LED strips do!
Pathway lighting is one of the most common uses for Govee LED strips. The lights are simple to install and provide enough illumination to see where you're going at night or early in the morning before it gets too bright outside. If you're looking for a cheap way to add more light to your home at night, these lights are a great option!
Use the Govee led strip lights to illuminate the deck of your house. You can use the combination of warm white and cool white led strips to create a nice ambiance, which will make your deck look more attractive. You can also add some colorful effects using these strips.
Conclusion
The Govee Home app offers a more modern and convenient way to control wireless lights, offering various pre-set scenes and dimming controls. Users who have a compatible light will find that this is a great way to automate their outdoor home lighting, so they can avoid unnecessary energy costs. However, using the app isn't necessarily an obvious process at first. We hope that reading this has helped you get started with your own lights.
While tricky to install and lacking in several important features, Govee's weather-resistant Home app makes it easy to set up and monitor your porch lighting via a conveniently designed mobile app. With many of the bugs having been worked out, we think that this is an effective alternative for homeowners who want to keep their lighting running all year long.